---
EzyCopter Hover Training Center
* No More Complication. FAA/EASA may credit 10 hours of training in your country.

<起飛不離地的真機模擬直升機飛行教育訓練。>

---

---

---

Why Coaxial Helicopters?

Coaxial helicopters allow for a more stable, more maneuverable, quieter, and safer helicopter designs due to the "inclusion" of "a counter-rotating coaxial main rotor", and the "exclusion" of "the tail rotor", representing a smaller footprint.

Coaxial rotor helicopters provide a "much better power to weight ratio" than conventional helicopters by producing "greater lift" with same power level as conventional helicopters at "much greater efficiency".
Since 2003 when the first Coaxial Drive System (CDS) was introduced by the Yoshine EzyCopter at the HeliTech in UK, coaxial helicopters have become the trend for new helicopter developments.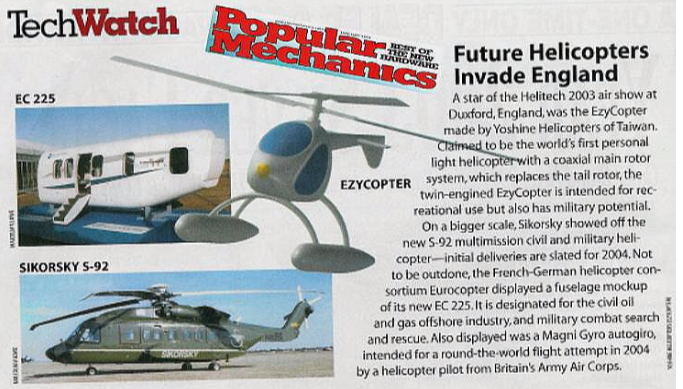 While Airbus, Bell, Boeing, Sikorsky have been busy with their new heavy coaxial helicopters:
Yoshine has introduced the world's first EzyCopter, Type Certificated in Germany, for everyone to learn to fly and experience a new and easier way to fly a helicopter of the future:
Yes, you can start an EzyCopter Hover Training Center in Your city. Click here to Contact us today.

祐祥直升飛機股份有限公司

P:+886 939 928 719 W:www.yoshine.com.tw E:yoshine@mail.com TECH-CENTER:yoshine@tech-center.com
Copyright @2022 All Rights Reserved

---

---